Noć živih mrtvaca / Night of the Living Dead (SAD, 1968); r/f/m: George A. Romero; sc: John A. Russo, George A. Romero
igrani, horor, c/b, 96′
Kad mlada Barbara i njezin brat Johnny Todd odluče obići grob svoje pokojne majke, tijekom posjeta groblju Johnnyja iznenada napadne muškarac robotiziranih pokreta i ukočenog beživotnog pogleda. Dok Johnny pada kao žrtva agresivnog napadača, Barbara se uspije domoći obližnje kuće, vjerujući da je na sigurnom. Našavši se u društvu odvažnog tamnoputog Bena, nesigurnog Harryja Coopera, njegove supruge Helen i kćeri Karen, koja boluje otkad ju je ugrizao jedan od napadača, te tinejdžerskog para Toma i Judy, Barbara će ubrzo shvatiti da je kuća okružena zombijima, oživjelim mrtvacima koji su izišli iz grobova.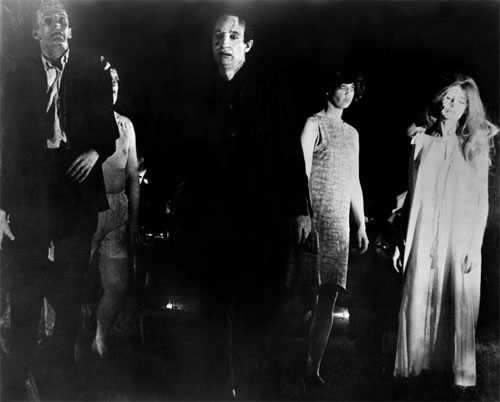 Dugometražni debi Georgea A. Romera jedan je od najuspješnijih nezavisno produciranih filmova koji je s vremenom postao kultni klasik i snažno utjecao na razvoj žanra filma strave. Snimljen u nezavisnoj produkciji za svega 114.000 $, film je polučio izniman uspjeh i izdržao test vremena te se redovito nalazi na samom vrhu mnogih lista najboljih horor filmova svih vremena. Iako se u samom filmu nijednom ne upotrebljava riječ "zombi", ideje o "živim mrtvacima" nastale u ovom filmu i danas se uvelike koriste, a sam redatelj je kasnije realizirao dva nastavka, "Zora mrtvaca" (1979) i "Dan mrtvaca" (1985), koja s izvornim djelom čine svojevrsnu trilogiju.
Ovaj klasik strave i užasa možete pogledati danas u Kinu Tuškanac (Tuškanac 1, Zagreb) s početkom u 19 sati.
Cijena ulaznice je 20 kn, a za članove (kinotuskanac.hr/clanovi) 10 kn.